Another year in the books. Time flies. I can't believe 2016 is over. While most feel that 2016 wasn't the best I do think I had an amazing year. I always have the mindset that life keeps getting better and better.
Here is a deep dive into my 2016:
At the stroke of midnight, I was at my cousins' house drinking sparkling cider and toasting to a New Year. My cousin Keely and I had a sleepover and we watched Home Alone. This was my first time watching Home Alone. I know a lot of people love Home Alone, but there are a lot of plot holes in it and it doesn't really make any sense. A few weeks ago, my friends and I watched Home Alone 2 and let me just say that movie is absolutely horrible. We couldn't even get through it because it was so bad. I do not recommend Home Alone 2.
Over winter break, I spent a lot of time at home. I went through all of my childhood photos. I had to put all the photos in chronological order, which was a feat.
My dad surprised me and got me an awesome gift. He got me a Survivor buff and hat that was signed by the host of Survivor, Jeff Probst. I am a huge Survivor fan so this was a great gift.
In January, I visited my old high school. I went with one of my best friends and we visited my old journalism class. It was so good to see all my editors and reporters again. I also visited the freshman AVID class. I told them about my experience in college. That Friday I went back to MHS to watch my brother's pep rally. He did an amazing job. Does anyone have a ShamWow? High school seems like such a long time ago. I am definitely glad that I am in college.
I flew back to NYC on January 18th. During the spring semester of my freshman year, I took Faith and Critical Reason, Math for Business: Calculus, Integrated Project, Composition II, Understanding Historical Change: U.S., and Statistics 1, I actually enjoyed all of my classes and I feel like I learned a lot from them that will be beneficial in the future.
On January 23, a huge snow storm hit the east coast. NYC received about 2 feet of snow. My friends and I went to Lincoln Center and played in the snow. And later that night we went back outside and walked through the isolated streets.
The following weekend, my friends and I went to Times Square and walked around. We visited the Disney Store and the M&M store.
---
Review of what TV shows I watched during January
During January, I watched Big Brother Canada Season 3. One of my favorite TV shows is U.S. Big Brother that runs from June to September on CBS. I also listen to a lot of podcasts about Big Brother on RHAP. One of my favorite podcasts is the Rhappy Hour, which is hosted by Big Brother Canada 3 contestant, Jordan Parhar. So I decided to watch Jordan's season because it was the latest season of Big Brother Canada. Also, I decided to watch it because I wanted to prepare for Big Brother Canada Season 4.
I thought BBCAN3 was good. I was heavily spoiled before I watched this season so I knew of big moments that were going to happen. I do think it is very twist heavy, which I don't like. Overall, it was enjoyable to watch a Big Brother season during the offseason.
Making a Murderer was a Netflix success. Everyone was talking about it for a few weeks. Ever since I was a little I have always watched shows like Dateline and 48 hours, which talked about different crimes. I really enjoyed Making a Murderer because of how in-depth it went. It was also very startling to learn about how many mistakes the police made during this case. It really makes you question how many cases are just like this one. I think it is very important that people watch tv shows like this so that they are aware of what goes on in our justice system.
In February, I watched the Super Bowl on my computer while eating Ben & Jerry's half baked ice cream. On February 11, I received the Woolworth Award for receiving a 3.6 or above GPA in my first of college. Over the 3 day week, it was super cold in NYC. At one time, it was 0 degrees Fahrenheit. As you can guess, I really didn't go outside. However, I did go outside to get Chipotle with my friends.
On February 17, my uncle flew in from Chicago and we went to the Chicago Blackhawks vs. NY Rangers game. We ate at Ruth Chris's Steakhouse. The game was at Madison Square Garden. The Blackhawks won 5-3. I actually got to see hat trick by Artemi Panarin, which was really cool because I wearing my Panarin jersey.
I also went to the Gabelli Lunar New Year party and I won a $10 AMC gift card. I am really thankful that I went to the party because I ended up meeting one of my really good friends.
---
Review of what TV shows I watched during February
A new season of Survivor premiered in February. The theme of Survivor: Kaoh Rong was Brains vs. Beauty vs. Brawns. Survivor: Kaoh Rong ran from February to May on CBS. I loved this season of Survivor. I thought the game plan was incredible. Every episode was highly engaging when I watched it. During this season, a lot of people talked about the edit and who the eventual winner was going to be. While I did see the winner's edit I didn't necessarily want to believe it. In the end, I was pretty disappointed with the eventual winner. The person who I wanted to win didn't end up winning. However, I do think this was a very good season and I highly recommend it.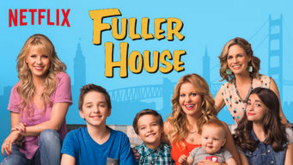 Netflix debuted Fuller House in February. I remember when I was little I would watch reruns of Full House on ABC Family (now Freeform). So when Fuller House came out I decided to watch it. I think this show is utterly ridiculous. The plot is very weak. Is there even a plot? None of the stories make sense. I got very annoyed at the laugh track. The only thing that made watching Fuller House worth it was understanding everything mentioned in this podcast. If you were annoyed with Fuller House or just want to laugh, then I highly recommend that podcast.
At the beginning of March, I started hanging out with what I would now call my best friends. It is true what they say that you might not find your best friends until the second semester of college. I am so thankful that I found them because I don't know what I would do without them. We spent a lot of time exploring the city and we would walk to the river or to Central Park.
On March 17th, I went home for spring break. I actually flew home with my old suitemate because she's from Gilbert. I think it's absolutely crazy that I had a suitemate who also lived in Arizona. It was actually pretty crazy: I was visiting my friends at ASU over spring break and I ran into my suitemate. What a small world?
While in Arizona, I went to Danny's baseball games and they won twice. I think when I look back on my life one of my highlights will be watching Danny play baseball. I've been going to Danny's baseball games since he was 4.
I also voted in my first presidential primary. I love voting. I love voicing my opinion.
I hung out with my friends from high school and we made sugar cookies. I went to a Spring Training game at the Giant's stadium. To finish spring break I celebrated Easter with my family. The next day I headed back to NYC.
---
Review of what TV shows I watched during March
The night I got back from AZ I made it just in time to watch The Fosters finale. I am a huge fan of The Fosters and I have watched it since the show began. I thought that the season 3B was fairly good. I really enjoyed the Romeo & Juliet episode and I loved the music. I thought the finale ended with a huge cliffhanger. (However, spoiler alert: I feel like they still haven't addressed it in 4A, so let's see if they address it in 4B.)
I also watched the Pretty Little Liars finale in March for season 6B. Pretty Little Liars is known for always revealing something during the season's finale. As someone who has watched Pretty Little Liars since the beginning, let's just say that I have disappointed many times. However, during the whole 6B I predicted who were the "bad" guys. I think after 6A finale I believe the Pretty Little Liars creators are trying to make the series finale make sense. They don't want another outrage.
After the Pretty Little Liars season 6B, I decided to rewatch Pretty Little Liars. However, I only made it through a few episodes in season 3. I really do think the first two seasons of Pretty Little Liars is really good. When I first watched the season 2 finale, I was really disappointed at who the original "A" was. I still don't like the reveal, but if they have the original "A" be the last "A" in the series finale then I will be satisfied.
Another show I decided to watch was BBCAN4. Personally, I do like the U.S. version of Big Brother better than the Canadian version, but I do like the Canadian version. Though I wasn't a huge fan of the cast of season 4. In my opinion, there weren't a lot of root-able cast members. Also, they had a very unfair twist in the middle of the game, which I did not like. While I wasn't the biggest fan of BBCAN4 I am definitely looking forward to BBCAN5.
I definitely explored New York City a lot during April. One day my friend and I went to the High Line and Washington Square Park. #doyouknowEminem
I also went to Central Park. My favorite place is the Bethesda Fountain and Terrace. #3wordseightletters I even saw a failed marriage proposal there.
I celebrated two of my friends' birthday and we went to the Broadway musical, American Psycho.
That same weekend I had to sleep over in my friends' dorm room and it was really fun. That Saturday, we went to Panera, walked by the Flatiron building, then walked up 5th avenue while making a stop at Barnes and Noble. The next day I went to a taping of the $100,000 pyramid.
---
Review of what TV shows I watched during April
During April, I was the second season of Unbreakable Kimmy Schmidt. Personally, I love Unbreakable Kimmy Schmidt. I think it is absolutely hilarious. I love how it is based in NYC. If you want to watch a comedy, then I highly recommend watching Unbreakable Kimmy Schmidt on Netflix.
My last few weeks at Fordham were great. I studied for finals but I also hung out with my friends. I also had to pack up all my things. It was a struggle. The storage company people came and picked up boxes. It was a very interesting experience, to say the least.
When I came back to AZ, I went to Danny's MHS Senior Awards. He won the Male Senior Athlete. Danny also graduated that week. Danny got to speak at graduation and he introduced the principal. One of my favorite moments was when his principal said, "We have students going to college like DePaul University…" My family laughed so much because DePaul was the first school he mentioned. The next day was Danny's Graduation Party. The whole day I helped with last-minute shopping and helping set up the party. During the party, I had to run out with my cousin to get six bags of ice from Culvers. I just want to say that I am very proud of my brother. This is what I wrote the night he graduated:
Congratulations to my brother for graduating high school. I'm so proud of him. He has accomplished so much over the past four years. During his senior year, he was the Student Body President, made state for golf, he was the baseball captain, honored as a Tempe Top Teen, made the playoffs for baseball, he was selected as All City for baseball, he was selected as All-section first team for pitching, and he was awarded Senior Athlete of the Year. Is there anything he can't do? Good luck at DePaul University, Danny. Can't wait to see what you!
Also, in May, my friends and I took a road trip to Greer. It was a fun vacation. We went grocery shopping the night before. I was in charge of making the road trip playlist, which I had a lot of fun making. In Greer, we walked around, played games, made dinner, and went hiking. Overall, it was a lot of fun and I'm thankful for my friends.
---
Review of what TV shows I watched during May
During May, I did 5/6 rewatch of Glee. I had watched Glee when it originally aired. I thought Glee was great on a rewatch. The jokes are still hilarious. And I loved all of the music. However, when I originally watched Glee I could barely make it through season 5. Again, I couldn't finish my rewatch when I made it to season 5. Season 5 is just bad. However, I will say that season 6 is really good. Though I didn't watch season 6 on my rewatch.
During June, I began volunteering at Tempe's City Hall and at BRIC (the Business Resource and Innovation Center). I worked with people who worked for Economic Development at the City of Tempe. I helped with the preparation of opening of the BRIC. By the end of June, I was volunteering every day. It was really good experience.
At the end of June, I applied to study abroad in London. In July, I was accepted. In October, I decided that I was going to study abroad. I leave for London on January 9th.
---
Review of what TV shows  I watched during June
Big Brother is one of my favorite TV shows of all time. I have watched since I was 10 and I love it. Season 18 premiered at the end of June. I would say that BB18 had a slow start. I think the team twist with returning vets really slowed down the gameplay. It was also hard to find someone to root for during the early days. However, by the time the jury started, the game was on. I loved watching the downfall of Paulie Calafiore. The final 6 with 3 pairs was amazing. In the end, I was disappointed with the winner. I remember watching the finale as the votes were beginning read I was literally on the edge of my seat. Unfortunately, I didn't get the outcome that I wanted. Here is a timeline of Big Brother 18 through different tweets:
Over the summer I also watched The Bachelorette. I haven't
watched The Bachelor or The Bachelorette in forever, but I decided to watch it this season because my brother said it is so funny when our parents make fun of all the contestants. So how could I miss this opportunity? I think most fans thought this season wasn't the best because most of the guys were unwatchable. All the guys cared about was getting famous. A number of times I rolled my eyes was too many to count. However, if you need mindless TV to watch, then I definitely recommend watching The Bachelor and The Bachelorette.
During June, I began a One Tree Hill rewatch. The reason I decided to do a rewatch was because my brother started watching One Tree Hill. The only problem was that I am faster binge watcher than my brother. One Tree Hill is still great on a rewatch. I love One Tree Hill. I think the characters are great, the plot is amazing, and the music is fantastic. Specifically, on this rewatch, I really focused in on the music and I loved all the new songs that I was able to my Spotify playlist. Here are the songs that I added:
1- Here Comes a Regular by The Replacements
2- Baba O'Riley by The Who
3- A Little Less Sixteen Candles, a Little More Touch Me by Fall Out Boy
4-Dark Blue by Jack's Mannequin
5-We Belong Together by Gavin Degraw
6-Look After You by The Fray
7-Hands Down by Dashboard Confessional
8-Missing You by Tyler Hilton
9-Non Believer by La Rocca
10-When The Stars Go Blue by Tyler Hilton and Bethany Joy Lenz
11- Within You by Ray Lamontagne
12- Boston by Augustana
13- Someday by Bryan Greenberg
14- Always Love by Nada Surf
15- Heartbeats by José González
16- Be Be Your Love by Rachael Yamagata
17- The Mixed Tape by Jack's Mannequin
18- Ride by Cary Brothers
19- No One's Going to Love You by Band of Horses
20- Never Say Never by The Fray
21- Chloe Dancer/Crown of Thorns by Mother Love Bone
22- I Shall Believe by Sheryl Crow
Another thing I watched during June was OJ: Made in America. First off, if you haven't watched this five-part documentary, then put it at the top of your watch list. This documentary is amazing and very thorough. While this documentary does talk about OJ trial it also depicts what was going on in Los Angeles before the trial and OJ's history. A lot of people question why the jurors acquitted OJ and the documentary shows the tension of the black people and the LAPD before the OJ trial. I couldn't stop watching this documentary. The OJ trial is so fascinating, but I loved the back story. I highly recommend this documentary.

During June, I also watched all of Silicon Valley. This show is absolutely hilarious. I enjoyed every single second of this series. I have watched a handful episodes but I had never watched the series from the beginning. But I am so glad that I did. As someone who loves technology and comedy, this was a great pairing. I highly recommend this series, which airs on HBO.
During June, I started watching Real Housewives Of New York. While I started on the eighth season it is still pretty good. I love seeing all the places they visit in the city. Also, this season was drama heavy (Can you say Countess Luann and Tom?).
On July 3rd, I hung out with my cousins for our annual July 3rd tradition of going to Culvers. This is one of my favorite traditions. I love eating custard while hanging out with my cousins. For the 4th of July, I went to breakfast with my friend, then later that day I spent 4th of July with her family. It was really fun. July 9th my brother turned 18! I am so lucky to have the best brother ever. During July, I applied for a job back in NYC. Guess what? I got it. For the first three weeks of the school year, I was going to work as a Peer to Peer Sales Team Member for Aramark. During July, I was still volunteering at BRIC. The BRIC had a soft opening at the end of July.
Before I left for NYC, I was still volunteering at the BRIC. I was also preparing for my upcoming semester. I read Creativity, Inc. and I applied for my passport.
I left AZ on Sunday, August 21. On Monday, August 22, my mom and I went to Fordham's other campus in the Bronx. At the Rose Hill campus, I had job training for my job with Aramark. When I was on the subway coming back to Manhattan, I saw a subway performance. Also, I saw Hoda eating dinner at a restaurant close to my school. The next day mom and I went to Ruth Chris's Steakhouse for lunch. Then later that night I moved into my dorm that is apartment style.
The next three days, I had training to be an orientation leader. It required me to listen to a lot of presentations about Fordham, but in the end, it was worth it. The first day of orientation was Sunday and in the morning my job was street move in. This meant I had to unload the student's car. Let's be honest, this was a struggle for me because I am not the strongest person. Later in the day, I got to meet my small group. Monday was our long day. We had to listen to a lot of speakers. We also had two small group sessions. Monday night was also excursions. My excursion was Shake Shack in Madison Square Park. My excursion was really fun, but also super stressful because I was in charge of 25 freshmen. Tuesday was the academic day of orientation. As a Gabelli student, I got to stay on campus. I had to set up lunch and I spoke at the student panel. Overall, orientation was a lot of fun.
Classes began on Wednesday, August 31. I didn't have class on Wednesdays, but I had my Gabelli sophomore kickoff. At the kickoff, I got to meet my group members for my semester long project and we had a competition. My group WON! We won a $50 Pinkberry gift card. My group's company was Chipotle. Also, right before the kickoff, my assistant dean asked if I wanted to be a Teaching Assistant for a Ground Floor section. Of course, I said yes! Later that day, I went to lunch with one of my friends. I went grocery shopping for the first time for our apartment. Then I went to TA.
---
Review of what TV shows I watched during August
During August, I watched the season 4A finale of The Fosters. I had watched season 4 of The Fosters since June. This season was fairly good but they didn't really address the cliffhanger at the end of the season 3 finale. I am really excited to see where season 4B première will start. There is a lot of drama surrounding Callie and Jesus. However, while both are in danger, I believe everything will be just fine.
Also, I watched the season 7A finale of Pretty Little Liars. One thing I hate about Pretty Little Liars is everything seems to be building towards the finale. They do reveal things throughout the season, but they really wait till the finale to start to reveal things. This finale was okay. I definitely hope that season 7B will be a lot better. I always seem to be disappointed with Pretty Little Liars and I am ready to be disappointed. PLL has a lot they need to discuss 10 episodes while wrapping up the entire series. I am interested to see what direction they decide to go in.
School was in full swing during September. This past semester I took Financial Accounting, Integrated Project, Marketing, Management, Info Systems I, Statistics Decision Making, and Business Communications I. These classes were part of my business core requirements. Six of my classes were integrated into a project called the Consulting Cup. I spent a lot of time working on this project. During September, I had to do a lot of research on Chipotle. Over the course of this project, my team and I had to identify a challenge facing Chipotle or a new opportunity for them. Then we had to come up with a response. The opportunity we focused on was the size of the breakfast market. Then our solution was to introduce breakfast in all of their store locations.
During September, I had to get my passport picture retaken. I went to UPS. When I went to pay I had my wallet open and my Fordham ID was exposed. And the guy working at UPS asked if the picture in my ID was myself and I said. He said that I looked different and that I was trying too hard to look like a movie star. Also, in September, I worked for Aramark. My RA tried to start a thing on my floor called Treat yo' Self Wednesday where you would invite everyone on the floor to your apartment and you would have to make a treat. So on Wednesday I had to make pudding, but I got the wrong pudding mix so I had to cook it. Overall it was a huge struggle to make the pudding. And guess what? Only my RA showed up. Then the next day she canceled the event for the rest of the semester.
---
Review of what TV shows I watched during September
During September, the 33rd season of Survivor premiered. The theme was Millennials vs. Gen X. Before each season of Survivor, I am usually really pumped up and I listen to all preseason coverage. However, I was so busy with school that I really didn't listen or read anything about the upcoming season. Also, I didn't think I would like the theme a lot. The première was probably one of the weakest episodes of the season. However, this season really turned around. By the merge, I couldn't wait to see what would happen next. I loved how there wasn't a clear winner's edit. Going into the finale I had no idea who was going to win. In the end, I loved the winner. The winner's storyline was perfect. This season was great.
This is Us premiered in September. During the summer, I had seen the trailer retweeted on Twitter and I knew I had to watch this series. This is Us is a masterpiece. The pilot episode is incredible. All the storylines are so well written. Each character has a lot of depth. Milo Ventimiglia (Jack) and Sterling K Brown (Randall) are both great actors. There have only been 10 episodes so I definitely recommend catching up. You don't want to miss out on this series!
As I was looking back on my photos on my phone, the first picture for October was a picture of cinnamon rolls that I had made. The funny thing is that it took me four plus hours to make them because my apartment's oven didn't work. The good thing is we ended up getting it fixed.
In October, I committed to studying abroad. I leave for London in January and I will be there till May. I am really excited to go out of the country for the first time. I am looking forward to a new experience.
During October, I focused a lot on school. I had three midterms. One of my assignments was to record my intro and conclusion for my successful initiative presentation. My successful initiative presentation was on Chiptopia, a summer long rewards program that rewarded customers for making multiple paid visits within a given month. Fun fact: I think I can still have this 4-5 minute presentation memorized. Also, did you know that you can't spell Chipotle without E-Coli? After recording my intro and conclusion, my group and I went to Pinkberry and I had a cookies and cream milkshake.
One fun thing that my friends and I did during October was we went to the Halloween Dog Parade. It was so cute seeing all the dogs dressed up.
One of my favorite days in November was November 1. That day I had to do my successful initiative presentation and I got an "A." I was so happy. I never thought of myself as a good public speaker so to get an "A" meant everything to me. Later that day, I had my Dean's List ceremony. Also, the Cubs won game 6, which was super exciting. Then my roommates and I got free pizza. It was a perfect day.
The Cubs won the World Series! Game 7 was such a thriller and I'm so glad that I watched it.
November 8th was election day. I had done an early ballot so I had already voted. I spent election day working on my group's intro and conclusion for our big presentation. Then my suite mate and I watched election coverage. The whole night I was snapchatting/texting my brother. We were both very disappointed in the results.
On November 22nd, my group and I did our ungraded presentation. Then I had to hurry back to my dorm room so I could change out of my business professional attire. My friend, Jess, was going to take me to the airport. As we were on our way to the airport, I realized that I wasn't going to get there in time. It took us three hours and thirty minutes to get to the airport. I ended up missing my flight. However, I got to spend the night at Jess's house, which was a lot of fun. She took me to the airport at 4 in the morning. I am so thankful to have such an amazing friend. That morning I flew to Arizona. I got to spend Thanksgiving with my family.
That Sunday I flew back to NYC. I ate dinner. Then I had to meet with my group to rework our presentation. We had to come up with a new introduction and conclusion. We worked until midnight. Then the next we spent any free time we had working on our presentation. We ended up working until 11 pm. Tuesday was our big presentation. I was so proud of my group. We got an "A" and I knew our hard work had paid off.
---
Review of what TV shows I watched during November
Over Thanksgiving break, I watched the revival of Gilmore Girls. I was so excited for the revival and I couldn't wait to watch it. I did think the revival was good. In Fall, I loved Lorelai's phone call with Emily and I loved Luke's monologue in Fall. However, there were things that I wasn't too happy about. I thought they could have done more with Rory's character. I didn't like that she was cheating on her boyfriend throughout the revival. I thought that the Paul gimmick was so stupid. I felt like Logan really regressed when it came to his character development. Personally, I would have loved to see more of Jess. I didn't love the last four words. It didn't leave me with closure.
December was great except for finals. My friends and I did a fun day trip where we went to Macy's and looked at the windows displays. Then we ate dinner at Shake Shack. Afterwards, we walked up 5th Avenue to see the windows displays and we looked at the Christmas tree at Rockefeller Center. It was a magical day.
The Monday of finals week I had to TA in the morning. The professor I was TAing for was delayed so I had to run the class for the first hour. I always loved playing school when I was little. It was so much fun to be in charge. I loved being a TA this semester. I loved being able to meet the freshman. I love being in a classroom setting.
Later that day, I had to go to the Consulting Cup. The sophomore year project I was working on this whole semester was a competition. My team ended up being a semi-finalist and I was really proud of us. Unfortunately, no teams from Lincoln Center ended up making it to the finals. I was really disappointed that no team from LC was selected. I knew how hard my friends worked and I believed that at least one team from LC deserved to make the finals. The Consulting Cup was a lot of fun. I liked hanging out with my friends outside of class. There were a lot of funny moments that happened that night.
My mom, brother, and uncle came to NYC for a few days. We got to go to Madison Square Garden and see the Blackhawks play the Rangers. The Blackhawks won. The next day we went to a taping of The Late Show with Stephen Colbert. I highly recommend going to a taping of a TV show. The following day I went to the Blackhawks vs. Islanders game. Overall, it was a lot of fun. It was a nice distraction from finals.
I had to say goodbye to my dog of 15 years. Buster was the best dog ever. He will be missed.
On December 21st, I left NYC to go back home. I got to see my high school friends on the 23rd. I celebrated my 20th birthday on the 25th. I can't believe that I am 20.
---
Review of what TV shows I watched during December 
During December, I watched The People v. O. J. Simpson: American Crime Story. I had seen that this min-series had been nominated for a lot of Emmy's. And it was getting nominated for Golden Globes. So I finally decided to check it out. I thought the casting for this mini-series was fantastic. Also, I thought this show was beautifully done. I think the OJ trial is so interesting. Through this show, I was still learning new things about the trial. I definitely recommend watching The People v. O. J. Simpson: American Crime Story.
Also, I watched the second season of Fuller House. I have no idea why I watched the second season. While I was watching it I was even questioning myself. Do I want to watch this or I am forcing myself to watch it? Overall, there are so many plot holes. I questioned the storylines so often. However, I am pretty sure that I will watch season 3.
To finish out 2016, I watched Stranger Things on Netflix. I can't

believe it took me this long to watch this series. I absolutely loved it. I loved the three different storylines and how they all came together. The show takes place in 1983 and it feels like it could have been filmed in the 80's. It felt like I was watching Stand by Me or E.T. Every character had so much depth. I couldn't stop watching. If you haven't watched Stranger Things, then you should definitely watch it now (or as soon as you have time)!
---
Wow! I did a lot in 2016. I'm so thankful for all my memories I made in 2016. I am thankful for all of my new friends that I made in 2016. And I'm thankful for all of my new experiences.
To everyone who took the time to read this, thank you. I love blogging and it means so much that people actually take the time to read my blog posts. I wish you the best of luck in 2017!